Will Caroline come out of the shadow she's fallen in?
Young, beautiful, marketable and successful. This was Caroline Wozniacki no longer than two years ago, when despite a few problems to keep it at the end of 2011 she was holding for the second year in a row the crown of world number 1 player. She was the most consistent, the most solid, the best defensive player of the moment, yet in two years of reign she hadn't won a single Grand Slam title, nor a Year Ending Championship. Yes, she reached the final in both stages, but for many it wasn't enough to justify her ranking. Truth is that her gap against her contenders for the ranking had always been quite big and for most of her supporters it would have been a matter of time before she would finally win her maiden slam.
Now, two years later, she's barely holding into top 10 thanks to a couple of good runs in big tournaments like Moscow and Indian Wells, but her slam record sums up her past 365 days with 5 wins out of 4 slams and two round 1 losses in Wimbledon and New York.
Few days away from Roland Garros, historically her worst slam, she hasn't won a single match on red clay and only one green clay (against the mediocre Soler Espinosa), which sets her on a 5 matches losing streak, where most of them came in an almost unexplainable fashion.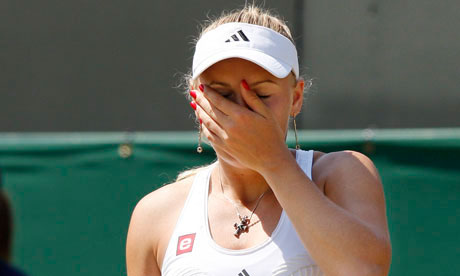 Caroline has been known for years for her mental strenght, whenever she wasn't the most talented player on court, she used to be the toughest to beat, because you could never count on her help: rock solid with her groundstrokes, athletically the best she would never let a ball get past her, which gave her the nick-names of "the Wall" or "Wall-zniacki", she wasn't killing her opponents with winners, but whenever she had a chance she was stepping in with her Backhand and the combination of all those took her where she was.
Nowadays she looks confused on court, she does not even move as good and her defence lands often short, mostly off her Forehand. The confusion came probably from the several awkward attempts of side-coaches that lasted too few to be helpful and the pressure of the media that wanted her to be more aggressive, but that led her to the clumsy position in which she can't outhit her opponents, nor has the variety to confuse them, nor can defend as effective as before. One could tell something was not as steady as it used to be, since her service motion drastically changed thrice in the past year and a half and her string tension keep going up and down like a rollercoaster.
But it is not her technique, nor her fitness the most worrisome aspect of her game, it's her mentality indeed: out of her last 5 losses only two were brutal for the score (the one with Zheng this week and the one with Shvedova in Madrid), but the other 3 came in matches she was leading and looked in control of them. Against Voegele she was comfortably sailing in the first set and in the third she had a great advantage and again the same happened against Jovanovski in Rome. In the latter case she played some great tennis in the first set and never looked in trouble against the Serb, then suddenly she started to hit shorter and miss shots she had no business missing, but noticeably her attitude was exactly the same as before, she just looked spent as if she couldn't care less, as if she didn't want to be there, on court, fighting for that win.
The same impression of mine is confirmed by
mental coach Erik Østenkjær, who said the followings to Danish media not long ago:
"
She seems mentally confused, and oscillates between a high top level and a bottom level as low as hell. This is made to raise her bottom level, top level is basically excellent. [...]
When you look at her behavior, you can read how she's doing. She has many ways to go, depending on how the fight goes to her, her shoulders hanging, and her style is more leave if she is losing. Previously, her posture alike, she seemed more confident and determined. [...]
It's a vicious circle, she has come in. Self-confidence is the key word, Caroline must dare a little more and show sharpness when she has the chance. Of course there must sneak something into doubt after such a shoal of defeat. And when that happens, then there is more than one opponent on the field. I wish there were a few tools that you could use the top floor so she could re-enter it to win rhythm."
The real bombshell came not many hours ago anyway, when Piotr, Caroline's dad and ever-lasting coach, in a press conference announced to have come to the decision to leave professional coaching and so Caroline to the hands of a new long term and full time coach. Differently from what happened so far it won't be just a "spin-off" with Piotr staying next and having the last word:
"
We are looking for someone who can be with her ​​for the rest of her career and not just half a year, because it is bad and destroys much. [...]

We want someone who can be with her the rest of her career and not just for a half year, because that's no good and wrecks things. Caroline's old enough to make her own decisions, even if it's not easy, because she has to find someone who understands her game and personality. She'll never play like Serena Williams. Every player has has a different understanding of the game, technique and strengths, and now we've found the two we believe in, and we hope to make a decision soon."
There are no names at the moment, even though a few coaches and former players have already stated a few times how they would like to work with Caroline and Chris Evert immediately comes to my mind, but only time will tell who is ready to take on such a complicate call and if she or he would be able to at least get Caroline back to her former self, if not further and finally make her win the first slam. It looks like a very long road and a damn steep one too, but Caroline in the past showed to be a great fighter and a hard worker, so maybe a change in her coaching will give her new motivations and a breath of fresh air help her confidence too.
It doesn't even sound like science fiction the chance that she might skip the grass season in order to work with that new coach and be ready for her beloved Hard Court American summer, after all she has no points to defend there after last year's Wimbledon loss to Paszek in Round 1 and it is no secret that out of all surfaces, Grass is only a little more suitable than clay for the Dane's game. What's sure is that in a few days she's facing British youngster Laura Robson in the first round of Roland Garros and it won't be easy for Caroline to interrupt the losing streak, but could we say it is easy against any other player on tour given what's going on with her at the moment?