Masha's way to the final might have seen no sets lost, but it was as easy as it may seem: in her first match on round 2, she had no problems against an uninspired Francesca Schiavone, but already in the 3rd round she needed all her attitude to run away with a win in straight sets against Spanish Carla Suarez Navarro. The Spaniard took advantage of a Sharapova's not-so-good day and definitely had her chances to win the first set and take the lead in the second, but despite the difficulties Maria fought back and closed 7-5 6-3.
Another round, another Spanish player to fight against in the first set before closing it 7-5 in her favor, but this time it was a more modest opponent, Lara Arruabarrena Vecino, whose inexperience on big stages took a toll on her called disbelief and in the second set she just raised white flag, while Masha sailed onto the next round with a 7-5 6-0 victory.
In the QF she faced Italian Sara Errani, in the rematch of the RG final, but if in Paris Maria never looked in troubles, here she had a lot of problems given by Errani's continuous changes of pace and lenght. Sarita served for the first set and had a bunch of set points, but in the end Maria could find a way out and closed the set in a long tie-break. The second set wasn't any less of a battle as the Italian didn't let the lost chances discomfort her, but her lack of a powerful serve in the end made the difference and Sharapova could win the match 7-6 (6) 6-2.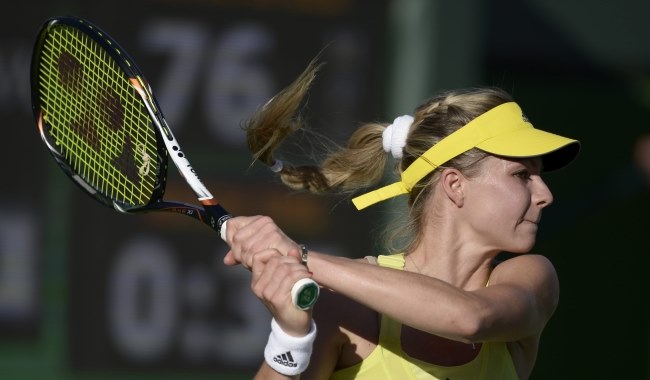 The match between the two Marias ended in straight sets, but there was a lot to regret for Kirilenko as by the end of the match she could transform none of the many balls she had to break Sharapova. 6-4 6-3 in the end, but Maria looked on her way to find a much more solid game than in the earlier rounds and she knew she needed all the consistency she is capable of in order to beat Caroline Wozniacki, who was meant to meet her in the final and is known for the few points she gives away for free.
The former world n°1 arrived to this final after a marathon match and incredible mental battle against German friend and seed n°4 Angelique Kerber (oddly enough both of them reached their final thanks to a walk over as Azarenka and Stosur had to pull out because of injuries before their matches).
The match grew of intensity and the public loved it, as the two girls fought hard for every point until the very end, when finally Caroline could close 7-5 in the third to get back to a Premier Mandatory final after almost two years.
In the final though Caroline knew that she couldn't rely on the same strategy she used to break down Kerber, as Sharapova is known for her ability to jump on high-balls and smack winners out of those, moreover the Russian hits always very hard and flat shots, that makes it really hard to rally with her. At the same time Maria knew she had to avoid rallying with Wozniacki if she wanted to stay away from her territory and she needed to put pressure on her serve from the very beginning.
So it was, Maria started tremendously breaking to love and holding back in a few minutes. Winner on winner, the Russian completely gave no breath to Wozniacki, whose strategy seemed to very soon move to "try to survive" mode, as there was very few she could do against such an inspired Sharapova.
"The scoreline makes the match look a lot easier than it was - it was a tough match, a tough battle, and there were a lot of games that went to deuce and long games, those games could have easily swung the other way, especially some opportunities she had in the second set. I felt like I was always a foot ahead though, especially with the breaks - I served well today, and that helped me."
"She was putting pressure on me from the start," said Wozniacki. "I felt like everything she wanted to do today was going in - she was making very few errors, and when she did, it was at times where it didn't really matter. Her first and second serves were pretty much the same speed, she stepped into the returns, and even when she was running, she still came down with some shots that were going very close to the lines. I have to say she just played too well."
Caroline's reaction after the match was good though, as she knew she had a good week and a lot of positives to take from the two weeks in California despite the severe loss in the final:
"I have to be happy with the finals here. It's a very big tournament. It's been a good two weeks for me. I've been fighting and playing some really good tennis. I've been having to think a lot and play some chess out there - I've had to play aggressive, defensive, and everything that I had. Today there wasn't time for chess."
But the WTA doesn't give time for breaks and this week all the protagonists of Indian Wells will be playing for another important Mandatory Title in Miami.