Reigning Queen already on troubles
Last year's winner and the best player indoor of her generation for many experts, Petra Kvitova reached this year's edition of the Year Ending WTA Championships in a very different way compared to 2011, the Czech had for sure a more solid season, but always looked one step back from the very top players of this season, one of them being Radwanska indeed.
Agnieska had never won against Petra before, but she seemed to be more confident about her today's chances as because she's proved to have improved a lot from last year, as because she knew Petra wasn't the unplayable spreading-winners machine she was last year on that surface. And she was proved to be right, Petra fought hard, but she never looked to be able to win the match, even in the rare moments of even score. Aga was simply too solid, even with her serve, whilst Petra couldn't hit as she wanted to, with far too many free errors given away. 6-3 6-2 the final score in favor of the Polish player.
Serena too strong for Kerber
Serena Williams started her campaign in the 2012 Year Ending WTA Championships of Istanbul in a very convincing fashion going undefeated after her first match, without dropping a single set.
She played against German Angelique Kerber and had to face a very determined opponent before scoring her first win here in Turkey.
Williams started very solid, whilst Kerber looked as if she was feeling the pressure of being for the first time at the year ending Championship and in a eye blink she found herself trailing for 3 games to 0.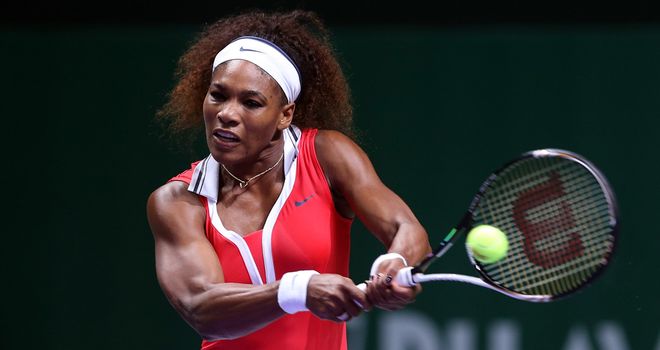 The German reacted though and with a burst of pride she tied up the score again even if Serena looked unplayable on serve. Serena didn't let this come back discorague her and kept playing her terrific game holding with ease, sending Kerber to serve to stay into the first set on 5 games to 4.
That 10th game was eventually crucial for the developement of the match as Kerber had a lot of chances to hold, but had to save many set points as well, until Serena took one and put an end to that first set.
Kerber fell under the pressure of a very motivated Serena, who seemed to really want to close the match fast, while on the other hand the German accused the missed chances to at least take the first set longer and so the second set lasted very much fewer than the first, with clearly no doubts about the outcome: Serena took it and the whole match 6-4 6-1.
Clay or Indoors? Masha does the same effect to Errani
The only previous meeting between Sharapova and Errani was at this year's Roland Garros final, when Maria won -completing her carreer Grand Slam- won in a very impressive way with a score of 6-3 6-2. Funny enough last night's score was exactly the same, even though the match followed another path.
Masha started the match playing an over-aggressive tactic, which produced a lot of winners, but also a little bit too many Unforced Errors, even though, for a nice part of them, credits should be given to Errani, who knew she had to run a lot in order to have a chance in this match and so she did. The first couple of games lasted over 40 minutes, but even if the score was tight, Maria never looked on any danger. And so it was, Masha raised her game, by deciding not to go for winners too early in the rally and it really paid off as she took the first set for 6 games to 3. The second set then was never close, Maria looked very confident and her shots never left her on her feet, but as usual Errani never gave up until the very end, honouring her presence here by proving why she's a top 8 player -no matter all the criticism she got for that- if a slam final, a semifinal and a quarterfinal shouldn't be enough for that!